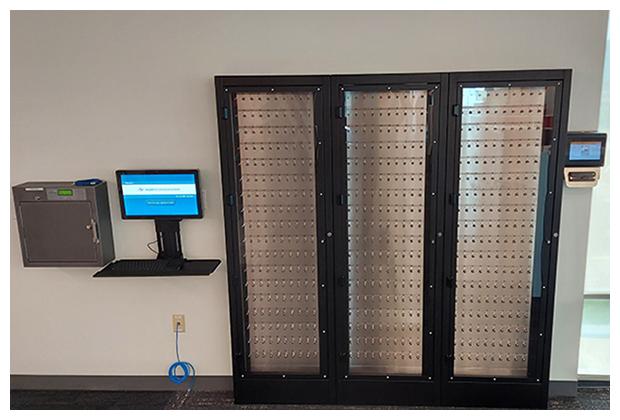 You may have noticed key kiosks popping up at City Hall and the Severn Building. This is the first step in the implementation of a new system that will provide key access for Facilities Management (FM) staff and contractors 24/7.
Efficient key distribution is important to the many FM staff and contractors who need building access to perform routine and emergency repair and maintenance work. The new high-security key management system provides access to keys and a full audit trail of who removed the key, when it was taken, and when it was returned, keeping those who use keys accountable at all times. Only authorized staff are allowed access to the custom key cabinets and then only to designated keys.
Once kiosks are fully functioning, FM staff will access keys using a swipe card and a pin. Contractors using the system will use a pin only. Training for the new system will be provided to FM staff who are likely to use the system – supervisors, front-line workers, and project managers who work with contractors. 
Chris Kerby, assistant director for FM's CRC is leading the kiosk implementation team – a cross-functional group that includes staff from FMIT and the CRC. The team is working through the many details associated with a project of this size including plans for ordering and organizing a new key inventory and developing the processes and procedures needed to administer the new program and ensure accountability. 
Key distribution is currently being managed from the Service Building 003, 6 a.m.- 6 p.m. Monday-Friday. The new kiosks will be launched later this summer. Watch your email for more details coming soon.