Recycling & Waste Management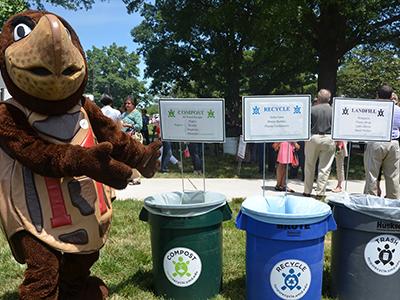 FM Recycling & Waste Management Operations provides bins, toters, and dumpsters for use by campus departments and spearheads a number of programs that keep materials out of the landfill and comply with University recycling and waste management targets.
Campus Waste Disposal
Mixed Recycling
Paper: newspaper, magazines, computer paper, junk mail
Cardboard: cereal boxes, frozen food packaging, etc. (flatten before recycling)
Plastic Containers: bottles and containers (must be clean and dry)
Aluminum: cans, containers, foil, pie pans, etc.
Books: paperback, textbooks, hardback
Steel/Tin Cans: soup cans, fruit cans, etc. (rinse first)
Waxed Cartons: milk and juice cartons (remove plastic straws and lids)
Glass
Recycle empty and clean glass jars and bottles in the purple bins designated for glass recycling. Current glass recycling drop-off locations:
Mulligans Bar & Grill parking lot (at the campus golf course)
Maryland Stadium (outside of Gate E)
Annapolis Hall (outside on the west side of the building)
Compost
UMD collects food scraps, paper towels and napkins, flowers and plants, paper food containers, and items labeled compostable. 
To determine whether a food container is compostable, try to tear it. If it tears easily, it can be composted. If you can see a plastic coating, then it is trash.
Landfill Waste
Some items may not be recycled and must be deposited in trash containers. These include plastic bags, styrofoam containers, and COVID-19 materials (used masks, wipes, and gloves).