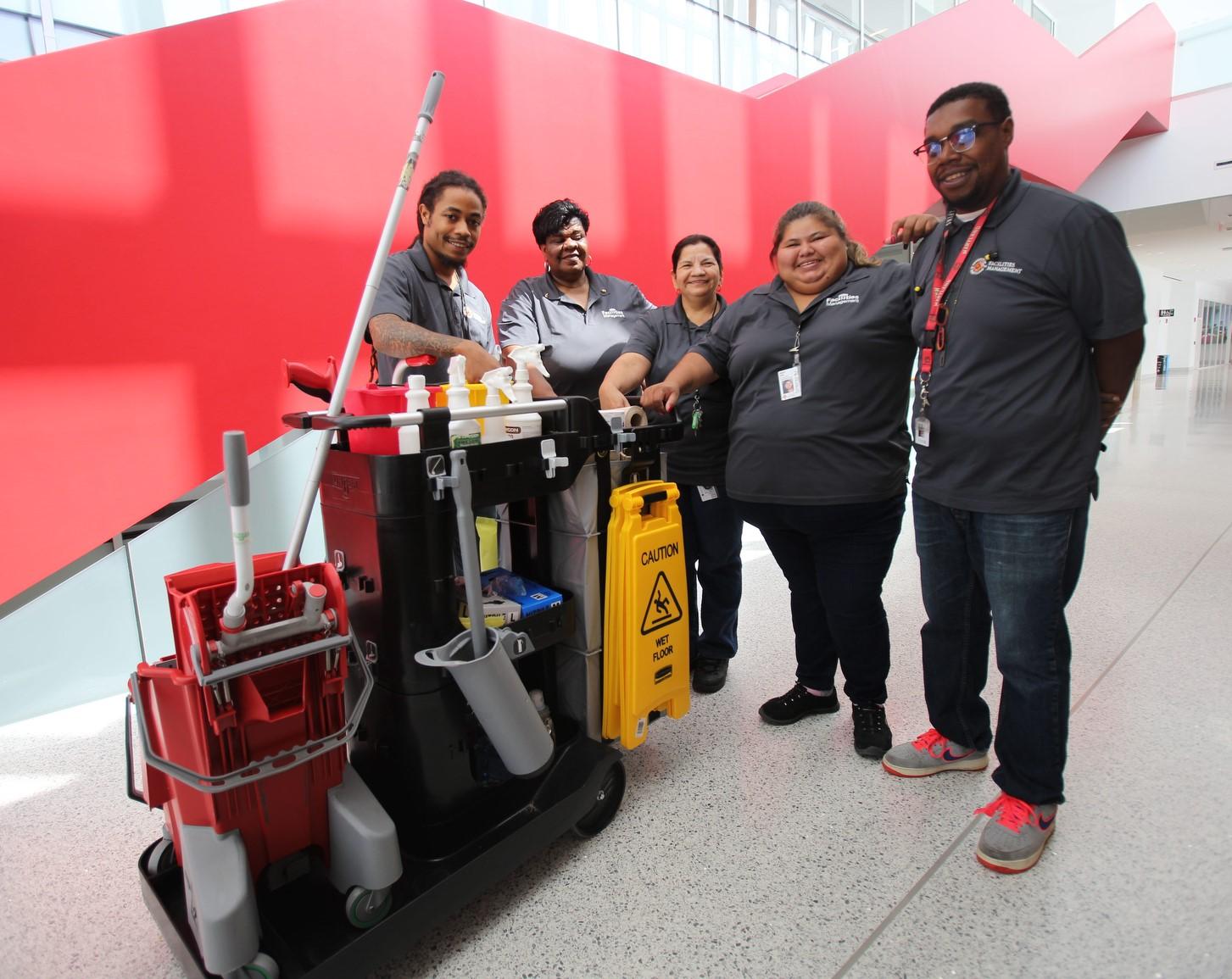 Cleaning in Academic & Administrative Buildings
FM strives to provide a clean and healthy environment across campus, utilizing quality control assurances, environmentally responsible cleaning equipment/chemicals, and techniques that meet CDC guidelines. UMD Facilities Management maintains Green Seal (GS-42) certification.
Common/Public Areas 
(Classrooms, lecture halls, seminar rooms, teaching labs, study rooms, restrooms, clinics, gymnasiums, locker rooms, elevators, kitchens, entryways, vestibules, lobbies, corridors, stairways)
Tasks Performed: 
Trash/recycling removal 
Dusting
Vacuuming
Wet mopping/scrubbing 
Cleaning & disinfecting of restrooms, high-touch areas, and common-use surfaces such as podiums, tables, counters, and desks 
Maintaining hand sanitizing stations 
Supplying disinfectant buckets (wipes) and alcohol wipes in classrooms 
       Frequency: Daily
Annual Projects:
Floor cleaning/carpet shampooing
Floor stripping and refinishing
       Frequency: Annually
Administrative Areas 
(Offices and conference rooms)
Tasks Performed: 
Trash/recycling removal  
Dusting  
Vacuuming
Wet mopping
Wiping cleared horizontal surfaces
Disinfecting door handles/contact points 
      Frequency: Once weekly
Shampooing and/or scrubbing and floor refinishing services are available upon request (billable service).
Restricted Areas
(Research labs, offices, etc.)
Room cleaning
Floor cleaning/carpet shampooing
      Frequency: Available on request (possible billable service)
Extra Cleaning Services
Need floors or carpets cleaned, windows washed, or other extra cleanings? FM provides custom cleaning solutions upon request (possible billable service). Please call 301-405-2222 to schedule your free estimate.
Request a Trash/Recycling Bin or Dumpster
Trash and Recycling receptacles are provided by FM's Recycling and Solid Waste Team.