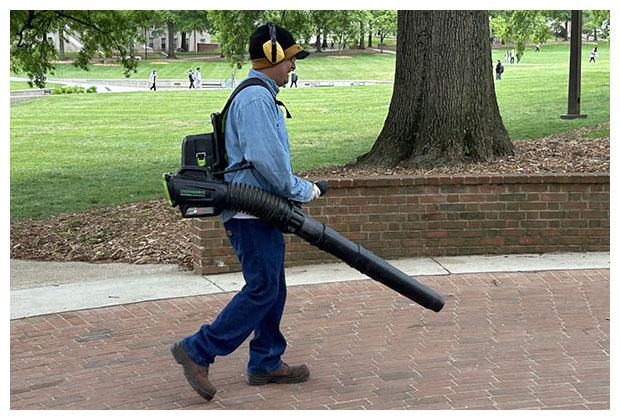 Facilities Management's (FM) Landscape Maintenance team has accomplished the long-awaited switch from gasoline-powered to electric leaf blowers. Completing a transition that began in 2018, FM eliminated the last of the gasoline-powered equipment at the start of this year. Outside contractors are also required to use electric blowers when working on the UMD campus.
The change to all electric was prompted by concerns related to excessive noise and carbon emissions on campus. Classes were often disrupted by the high volume of gas-powered blowers working throughout the day (especially during the fall months) The two-stroke engines common on most leaf blowers are also known for their high emissions compared to other types of engines. The California Air Resource Board claims that one hour's use is equivalent to driving a midsize car 1,100 miles.
A major transition like this is not easy.  Each battery-powered leaf blower uses three batteries in a full day's work that require overnight charging. FM met the challenge with updated circuits for charging the batteries and more effective fire suppression systems. While electric leaf blowers are slightly less powerful than their gasoline counterparts, that does not present a problem for UMD. The new blowers will mainly be used for cleanup around buildings. The larger volume of leaves in lawn areas are mulched into the soil by lawn mowers.
Leaf blowers are the first of many landscaping tools under consideration for the move to electric power. Options for electric weed/hedge trimmers, push mowers and zero-turn riding mowers are currently being tested.